Theses
Review theses in print and online.
The library holds a limited number of undergraduate theses, available behind the issue desk and at https://ezproxy.ait.ie/login?url=https://exat.ait.ie/#UndergraduateDissertations.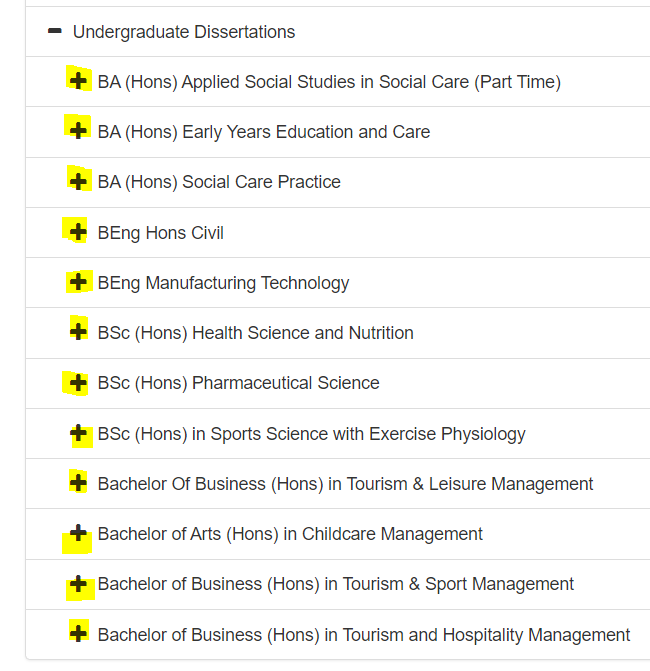 Click on the + symbol to the left of Undergraduate Dissertations to expand the list.
Research@THEA hosts extensive research material from staff and students, including Masters and Doctoral theses from TUS Library: Midlands, other TUs and IoTs.
Open access theses may be retrieved via ProQuest's Publicly Available Content Database – select Dissertations & Theses from the Source Type box.
Please note that no undergraduate theses are available in Research@THEA.
Institutional Repositories
Biblioteca Virtual del Español tesis doctorales – Browse information on Spanish language doctoral theses. Some full text access.
Dart Europe E-theses Portal – Thousands of full text theses in English from universities in 16 European countries.
DHO:Discovery – a gateway to Irish digital collections and resources, information and knowledge in image format.
Digital Commons Network – Brings together free, full-text scholarly articles from hundreds of universities and colleges worldwide.
Doegen Records Web Project – This digital archive of Irish dialect recordings made during 1928-31 comprises an important collection of early Irish language recordings of folktales, songs and other material.
EThOS – A web resource that provides free access to a small portion of full text UK doctoral theses. Note: patrons have to register themselves on the EThOS website in order to access electronic theses. However, the site can be searched without having to register.
Esource DBS – Dublin Business School Repository.
Health Research Board – National Documentation Centre on Drug Use Repository.
Irish Traditional Music Archive Digital Library – Multimedia archive.
Irish Virtual Research Library and Archive – Humanities research repository from UCD in image formats.
Lenus – Irish Health Repository from the HSE.
RIAN – Pathways to Irish Research. Research output from Irish Universities, Institutes of Technology, Lenus, RCSI, Teagasc, Mary Immaculate College, Marine Institute and All Ireland Public Health Repository.
Research@THEA – Institutional repository of the Institutes of Technology.
Social Science Research Network – Business and Humanities papers.